I told him there´s no future in football! A-Rod relieved to be ignored by Mahomes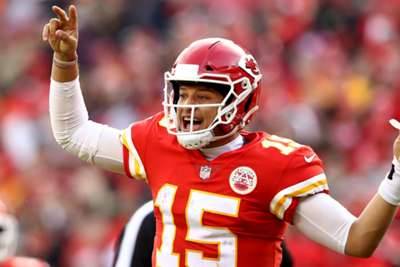 Fortunately for the Kansas City Chiefs, Patrick Mahomes ignored the advice of former baseball star Alex Rodriguez, who implored the quarterback to drop football and take up his sport.
Rodriguez, a 14-time MLB All-Star and World Series champion with the New York Yankees in 2009, played alongside Mahomes' father, Pat, with the Texas Rangers during the 2001 season.
Mahomes Jr has lit up the NFL with the Chiefs this year, needing just 10 games to break the franchise record for touchdown passes in a season, overhauling Len Dawson's previous mark of 30 in a 26-14 win over the Arizona Cardinals on November 11.
And Rodriguez recalled a chat he had with a younger Mahomes, which - thankfully for the Chiefs - fell on deaf ears.
"I said, 'Now listen to me, if you don't hear one thing that I ever tell you, you better listen to this'," Rodriguez told Omnisport.
"'There is no money, there is no future, there is no history in football. You have to play baseball!'
"Well, he reminded me of that recently and boy, am I glad he did not listen to me!"
Rodriguez was speaking at the London Stadium, which is set to hold two regular-season games between the Yankees and world champion Boston Red Sox in June next year.
And the former shortstop and third baseman drew comparisons between Mahomes and a current Yankees superstar.
"He reminds me of Aaron Judge. They have this...bigger than life, superhero thing," Rodriguez said.
"And what's interesting about the surprising part has been how great he has been on the field. But what hasn't surprised me is his great character because it reminds me of his father who's one of the best team-mates I've ever had.
"But again, I bring it back to Aaron Judge. When London sees the size of Aaron Judge, how far he hits the ball, it kind of reminds me of Patrick, a good reminder of him."
Mahomes - who leads the NFL with 31 TD passes in 2018 - and the Chiefs travel to the Los Angeles Rams later on Monday, in a battle between two sides boasting a 9-1 record this season.